Dear bikers
One bad news after another these days.
These are difficult times for all of us but we will survive.
We motorcyclists in particular have the nerves of steel to deal calmly and calmly with extremely dangerous situations.
All the more reason for us to be happy that we don't have much to report.
We have reacted early on and massively increased our stocks.
As we have the entire production of Schwabenmax accessories in the region and within Germany, there have been no failures in the production chain.
Our suppliers are also well positioned, so that there are hardly any delays in delivery.
At most the usual ones at the beginning of the season.
The dispatch within DE is also not restricted.
Internationally, there are longer delivery times in some regions by the respective postal services.
We will gladly inform you about this in advance.
Due to the current situation we cannot offer visits to our business premises at the moment.
Unfortunately we also have to decline the popular trips to Schwabenmax for a coffee.
For our customers in states or federal states where it is not allowed to ride a motorbike anymore, we will soon provide a page with tips and tricks.
Let's use this time to finally do the things on the bike for which the winter was too short again.
Because we have many requests for spare parts, gaskets etc. at the moment, I ask you to contact us directly by email or phone.
Have a good time and stay healthy.
Schwabenmax Team.
Welcome to Motorrad Kurzhubgasgriff.
The problem of often too long gas paths in motorcycles has caused us to take remedial action here.
Since 2009, we develop and produce gas shortcuts for a variety of motorcycle models. Our short-stroke throttle grip adapters shorten the gas path of the motorcycle depending on the model of 17,5-25%.
Of course, we pay attention to high-quality workmanship and materials.
All gas shortenings offered by us were extensively tested by ourselves or test drivers. The development and production takes place exclusively in Germany.
Due to the great response, we present here own shop exclusively with short-stroke gas handles for a variety of motorcycle models.
Schwabenmax
is your competent partner in motorcycle tuning and refinement.
Visit our main shop with a comprehensive motorcycle accessories in premium quality. Specializing in Yamaha Vmax, Suzuki GSX 1400 and K1200R models.
You are welcome to visit us in our shop by appointment and inspect the items on the spot and buy. Of course, we are also happy to help you by phone with advice and assistance.
New models for our short stroke throttle.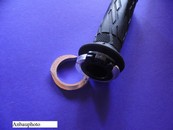 KHG-KT-D1.0